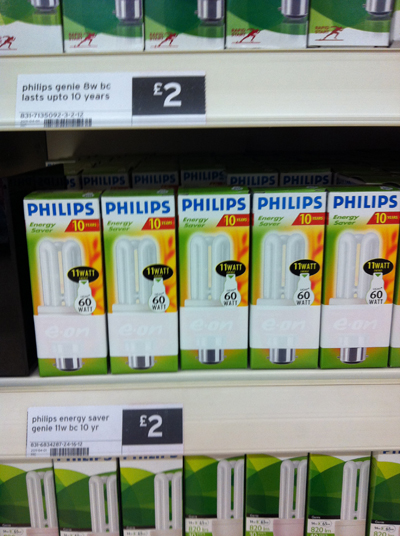 Repriced lamps with "EON" subsidised label covered
As of April 1, 2011 ( This is no joke!) the energy suppliers' subsidies of CFLi "energy saver" lamps in the UK is ended. As predicted, because there is no "inefficient" option anymore due to the European legislation, there is no argument to maintain this very suspect practice. Recently there have been some really crazy offers, the pound stores have been offering 4 for £1 and even the supermarkets have had similar priced offers. Today it has all changed.
The price for a lamp equal to the 60W Incandescent has been decided between the lamp manufacturers and supermarkets to be £2. This is the new price for a 11W CFLi and "coincidentally" a 42W halogen energy saver costs £1.98 in the same supermarket. It seems that this is the price point that has been decided as there is no way that I can accept that two such different products whose only common factor is the amount of light produced could realistically cost exactly the same, particularly as TH lamps are also available in the Pound store!
So the manufacturers and supermarkets have achieved their aim of getting rid of a low price low profit product , the incandescent lamp, and replacing it with a much higher priced item that, incidentally, is substantially less good.
Kevan Shaw April 2, 2011